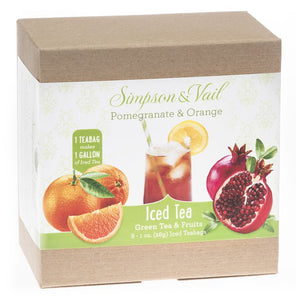 A delicate and delectable blend of organic green tea, organic herbs and natural flavors that brews to a pale pink cup with a light fruit taste. It's the ideal beverage for cooling off on hot, muggy days.

Ingredients: Organic green tea, organic rosehips, organic orange peel, organic hibiscus, natural orange spice flavor, and natural pomegranate flavor.

To brew:
Put teabag in a gallon container. Pour 180º water over the teabag to cover, steep for 3 minutes then remove the bag. Add cold water to fill the container and stir. Refrigerate. Serve over ice as is or with your choice of sweetener.

Iced tea in the refrigerator may turn cloudy. If this should occur, pour a little boiling water into the tea after removal from the refrigerator.