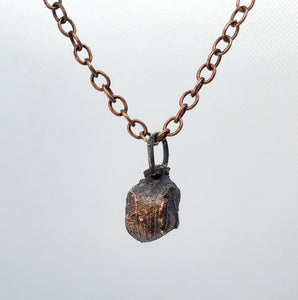 PRE-ORDER NOW
We are now taking pre-orders (these are made on demand)
The turn around time will depend on the demand, but will not be excessive. 
We take dried pellets of goat poop and seal them. They are then coated in a conductive paint, a bail is attached, and they go into an electroforming bath for several hours. They come out encased in copper with their original shape and texture preserved forever.
We love this antiqued finish! 
No muss, no fuss...no smell!
*chain not included 
*actual item may vary slighlty in appearance from photo as these are one-of-a-kind items.