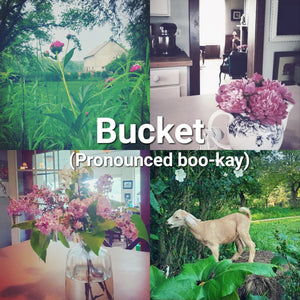 Imagine sitting in an English flower garden, sipping tea from your Royal Doulton with the hand-painted periwinkles,...surrounded by lilacs, jasmine, goats eating your roses... To capture this feeling, we created Bucket (pronounced boo-kay). A clean floral scent, not heavy or perfumey. Mind the goat, Richard.

Aprox 4.5 oz bar (most are bigger)

Tilton Hollow raw goat milk, saponified oils of coconut, olive, avocado. Shea butter, phthalate-free fragrance.

*fragrance also infused with natural essential oils.