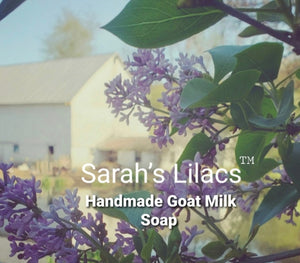 The year is 1823. Sarah Tilton is going through the possessions they brought in their wagon on the long journey from New Jersey. John is working with neighbors to frame their new homestead. Nehemiah and his brothers and sisters are running here and there exploring the valley that will be their home. She comes across the muslin wrapped treasure she carefully packed away for the long journey. She unties the twine, inside there are some dormant saplings from her parent's homestead in New Jersey. She can almost smell the lilac blossoms that will bloom on a spring day not too far away. 
She hears splashing a looks toward the stream, "Nehemiah Tilton, if you go in the stream with your shoes on, I'll tan your hide!" She shakes her head and smiles as she looks around for the perfect spot for her lilac starts.
Sarah's Lilacs
Aprox 4.5 oz bar (most are bigger)
Tilton Hollow raw goat milk, saponified oils of coconut, olive, avocado. Shea butter, phthalate-free fragrance.
*fragrance also infused with natural essential oils.