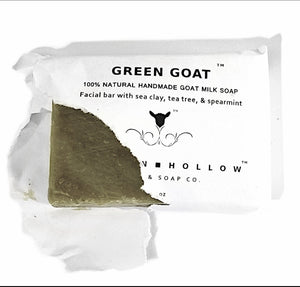 Green Goat combines our raw goat milk with sea clay, & a blend of essential oils with a touch of spearmint. We like to get a really thick lather on our hands and spread it on our face, let it dry for about 10 minutes, just like a clay mask. The sea clay is good for all skin types, containing many vital micro-nutrients, and the oils are great for your skin, and it just smells great! 
Each bar between 4-5 oz
Raw Tilton Hollow goat milk, saponified oils of olive, coconut, avocado. shea butter, green sea clay, essential oils.
*Disclaimer: The statements presented on this site have not been evaluated by the Food and Drug Administration. The products offered on this web site are not intended to diagnose, treat, cure or prevent any disease.