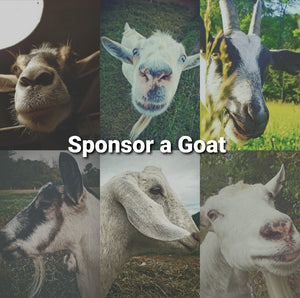 At Tilton Hollow, many of our business decisions are made with our hearts, instead of our heads. we keep several goats that have never produced milk, or have retired from milking. Most farms would send those goats away, to other farms, or very likely to slaughter. We see them as more than "livestock" , they are sweet, intelligent, funny, they form strong family bonds, they all respond to their names...they are just incredible. our goal with our soap business, is not to get rich...but just to be able to keep sharing our lives with these wonderful beings. 
These sponsorships help to free up funds for things like purchasing a small tractor, to help with keeping the barn clean and comfy, & repairing/replacing the barn roof, which is on the top of our wishlist at the moment, and things like paying for equipment/labor for a yearly barn cleanout. 
When you sponsor a goat:
You will receive an email greeting/photo from your sponsored goat and a bit of info about that goat. You will also receive a special promo code that will give you %15 off any Tilton Hollow purchases during your sponsorship period (3, 6, or 12 months) We will also occasionally send email updates/fun tidbits! Welcome to the farm family! 
These are great to have sent as a gift also. "A goat has been sponsored in your name"
We have 3 levels
3 months  $60
6 months. $120
12 months $240
Did you know you can sponsor a goat in someone else's name as a gift? Simply let us know in the note field that it is a gift and gives the name and email address...along with any message you want to send to the recipient. 
It's simple!
Would give someone a smile, and the goats (and farmers) will be very appreciative!