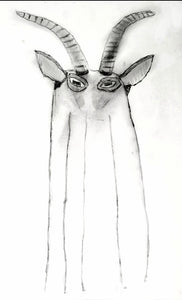 When we needed a label for our "Hollow"een soap, Goast, farmer Jeff sketched this quirky image of a goat dressed up as a ghost....so..a goast! 
We also like to believe that the spirits of a few goats that we've had to say goodbye to over the years, are still among us here in the hollow...and they are certainly welcome! 
We've even had a possible encounter with old Nehemiah Tilton himself...when he introduced himself to Chad out by the barn one night. (Nehemiah died in 1915)
This wonderful sketch is ink on canvas and is suitable for framing. 
Each print starts with a printed outline of the original sketch, on canvas, then is hand-embellished with additional detail.
canvas size 8.5 x 11 print size 7 x 5
Only 10 available for 2022
Each will be signed, dated and numbered by farmer Jeff himself!