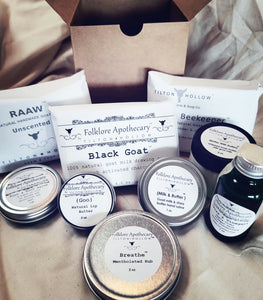 This bundle includes a wonderful assortment of 100% natural Tilton Hollow skin care products. The essentials. 
Raaw unscented soap  4.5 oz bar
Beekeeper soap 4.5 oz bar
Black Goat soap 4.5 oz bar
Better With Butter - whipped body butter 2 oz tub 
Goo lip butter  .5 oz tin
Milk & Butter moisturizer salve 1 oz tin
Breathe - Mentholated rub 2 oz tin
Foot & Hoof salve  1 oz tin
Piss & Vinegar face tonic 1oz bottle
This makes a great gift! ...even for yourself!
*bar soap substitutions may be made based on availability.