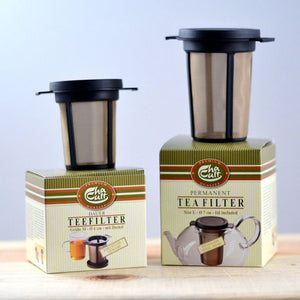 This filter has a proven track record of lasting over 5 years!

Made in Germany, these double-twilled stainless steel mesh filters won't impart any flavor of it's own to your tea. The filters have a heat-tolerant black plastic frame, with two convenient handles and a lid/drip tray. Due to the heating process, the filters have turned to a golden hue. The mug size (approx. 3"H) will fit most mugs or small teapots. Each filter comes with its own lid to keep your tea hot, while brewing, and to serve as a drip-catcher.

For cleaning, we suggest just rinsing the filter under hot tap water.