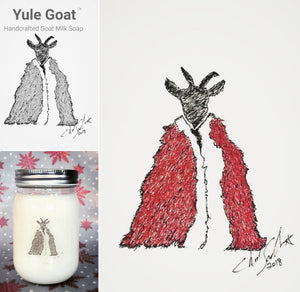 Farmer Chad's Yule Goat, ink on canvas art has become more and more popular each year since it's debut in 2016!
Now we've bundled the hand-embellished canvas print, with our Yule Goat soap and candle! 
Includes:
Hand-embellished ink on canvas Yule Goat, signed and dated by Farmer Chad 
4.5 oz bar of Yule Goat soap with a cranberry and spice cent!
12 oz hand-poured soy Yule Goat candle. (Same scent as soap)