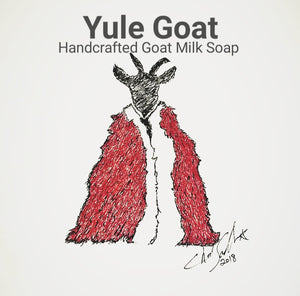 All the goat kids at Tilton Hollow know the legend of Yule Goat! On Christmas eve he comes through the hay chute in the barn loft and leaves tasty treats and fun toys for the good little goat kids! 
Before bedtime on Christmas eve, the goat kids leave a snack for Yule Goat, they know he loves alfalfa cookies....and of course his favorite drink...cranberry cider, with the perfect blend of spices! 
Our Yule Goat soap is inspired by the Yule Goat's favorite drink!
This soap comes wrapped in a copy of our original short story "A visit from Yule Goat".
Cranberry and a bit of Hollowday spice!
Aprox 4.5 oz bar (most are a bit more
Goat milk, saponified oils of coconut, olive, avocado, shea butter. Phthalate-free fragrance, grated nutmeg.